Property in Clifton: What is the property like in Clifton?
Located on the western edge of Bristol, Clifton is one of the best places to live in the Bristol. Living in Clifton offers the best of both worlds, with easy access to the city of Bristol yet all the benefits of countryside living. Clifton is a beautiful place to live, characterised by its majestic Georgian buildings, picturesque streets and independent shops, boutiques and cafés. The area also scores highly in Bristol's Quality of Life Survey, with over 90% of locals reporting they feel satisfied with the local area. To find out more on what living in Clifton has to offer, look at our guide below.
Clifton Area Guide
Clifton Heritage
The suburb of Clifton dates to as far back as the Domesday book when it was recorded as 'Clistone'. The area is one of the oldest and most affluent neighbourhoods in Bristol and went through a great phase of building in the Georgian era. Today the town retains its Georgian heritage, with glorious town houses, sweeping crescents and garden squares, mostly constructed using local sandstone.

Clifton Properties
Clifton is characterised by its picturesque streets lined with elegant 18th and 19th-century townhouses. Part of what makes the area such a nice place in is the beautiful Victorian and Georgian terraced houses that line many of the streets. Additionally, Clifton is situated beside The Downs, and it has easy access to the Clifton Suspension Bridge.
Clifton has always been one of Bristol's most affluent suburbs. Property prices in the neighbourhood reflect the quality of period houses for sale demand for property. Many of the large three- and four-storey grand mansions sell for above-average prices compared to other Bristol properties. The neighbourhood also has plenty of mews houses, offering rows of two-storey homes, each with a unique character.
The most affordable option to live in Clifton is to buy or rent a flat. There are many spacious flats in converted Georgian properties in some of Bristol's best streets. However, some more modern developments offer good value for young professionals, students, couples, or families who need to be close to local amenities.
If you are considering buying or renting a home in Bristol, what are the compelling reasons to choose Clifton? What do Clifton properties have to offer in this vibrant and cosmopolitan area of Bristol?
Properties in Clifton
Clifton houses and flats are located between Avon Gorge and Whiteladies Road to the east and west, with Clifton Downs to the north and Hotwells to the south. Clifton has a mixture of imposing Victorian and Georgian houses with bay windows, walled properties, gated entrances, and private gardens to the rear.
Some of the finest examples of Georgian architecture at the four-storey terraced homes in Vyvyan Terrace, Worcester Terrace and Royal York Crescent. Here you will find luxury townhouses with impressive columns on their facade, large sash windows, decorative railings, and balconies. Many of the period houses surround private garden squares that add to the character of the neighbourhood.
Many of the Georgian period homes are located beside the Clifton Suspension Bridge and are close to Clifton Village.
The northern area of Clifton is where the best Victorian townhouses are located in Bristol. Here many impressive detached and semi-detached homes sit in walled gardens with off-street parking. A feature of many of the Victorian villas in the area is the fancy brickwork that gives each house its own character. Many of the stately buildings also feature bay windows, which are characteristic of these period buildings.
There are also attractive Georgian townhouses in the quiet streets around Brandon Hill. Here will find three-storey homes that seem relatively narrow compared to their height. Many of these buildings have been converted into affordable flats. As is typical with many townhouses from the Georgian period, the top storey features smaller windows. The loft conversions make for cosy, affordable flats with fantastic views over Bristol and the Avon Gorge.
The most affordable properties in Clifton are period properties that have been converted into spacious flats with high ceilings. Many of the refurbished properties contain the period features of the original buildings, like sash windows, fireplaces, and ornately plastered cornices and ceiling medallions. However, the luxury flats have all the modern kitchen and bathroom fittings that you'd expect from a 21st-century contemporary home.
Clifton Property House Prices
Clifton is one of the most expensive areas of Bristol to buy a house. Period three- and four-storey grade II properties in terraced streets sell in the range of £1 million to £2 million. These properties usually have private landscaped gardens, excellent views, and between five and seven bedrooms. However, even apartments in these period properties command a premium price compared to other Bristol neighbourhoods.
More affordable houses to buy in Clifton are the mews houses and smaller townhouses. Some of the two- and three-storey terraced homes sell for between $400,000 and $800,000. Although the properties lack front gardens and only have small rear gardens, they are conveniently located for local amenities.
As with the most affluent areas of Bristol, buying a flat for many people is the most affordable option. Flats in converted period buildings are the most expensive. However, they usually include private gardens, off-street parking, and spacious living areas. Due to the demand for property in Clifton, flats in period Victorian and Georgian properties can cost between £100,000 and £350,000.
Cheaper flats for sale are in custom-built apartment blocks.
Renting in Clifton, Bristol
There is a wide range of properties for Clifton, with something to suit most renters' pockets. Of course, due to its location near the centre of Bristol, the suspension bridge, and The Downs, flat or house rental costs are above average for Bristol. You could expect to pay around £180 to £250 per week for a one- or two-bedroom apartment. Renting a place in the more exclusive addresses in Clifton could cost in the region of £275 to £325 per week in rental costs.
Most students at the University of Bristol looking for rental accommodation find more affordable flats in nearby areas such as Redhall, Stokes Croft, and Kingsdown.
New-Build Homes in Clifton
Clifton has a few new developments—some are period property refurbishments, others are new-build flats. For example, just on the outskirts of Clifton is the development of luxury flats at Queen Victoria House. This former convalescent home now contains luxury apartments with one to three bedrooms. There is also a new block of flats on the spacious grounds of this development.
There are also a few new-build flats for sale in the centre of Clifton, for example on St Paul's Road.
The Best Streets in Clifton
The best streets in Clifton are the straight, terraced streets near the suspension bridge. Streets like Caledonia Place, Royal York Crescent, and Portland Street have Bristol's best and most luxurious homes. Many home buyers also look for Victorian residences around Clifton Down station. The tree-lined St. John's Road with its fine period houses is one of the most popular in the north of Clifton.
Clifton Transport
Another aspect of living in Clifton is the great transport connections. The A4 curves its way round the village, providing easy access to the M5, while the M4 can be reached in about 15 minutes. The neighbourhood also boasts its own railway station, connecting to mainline services at Bristol Temple Meads in just thirteen minutes. Being a suburb of a city, Clifton also benefits from good bus transport, as well as numerous footpaths and cycleways, providing a range of travel options.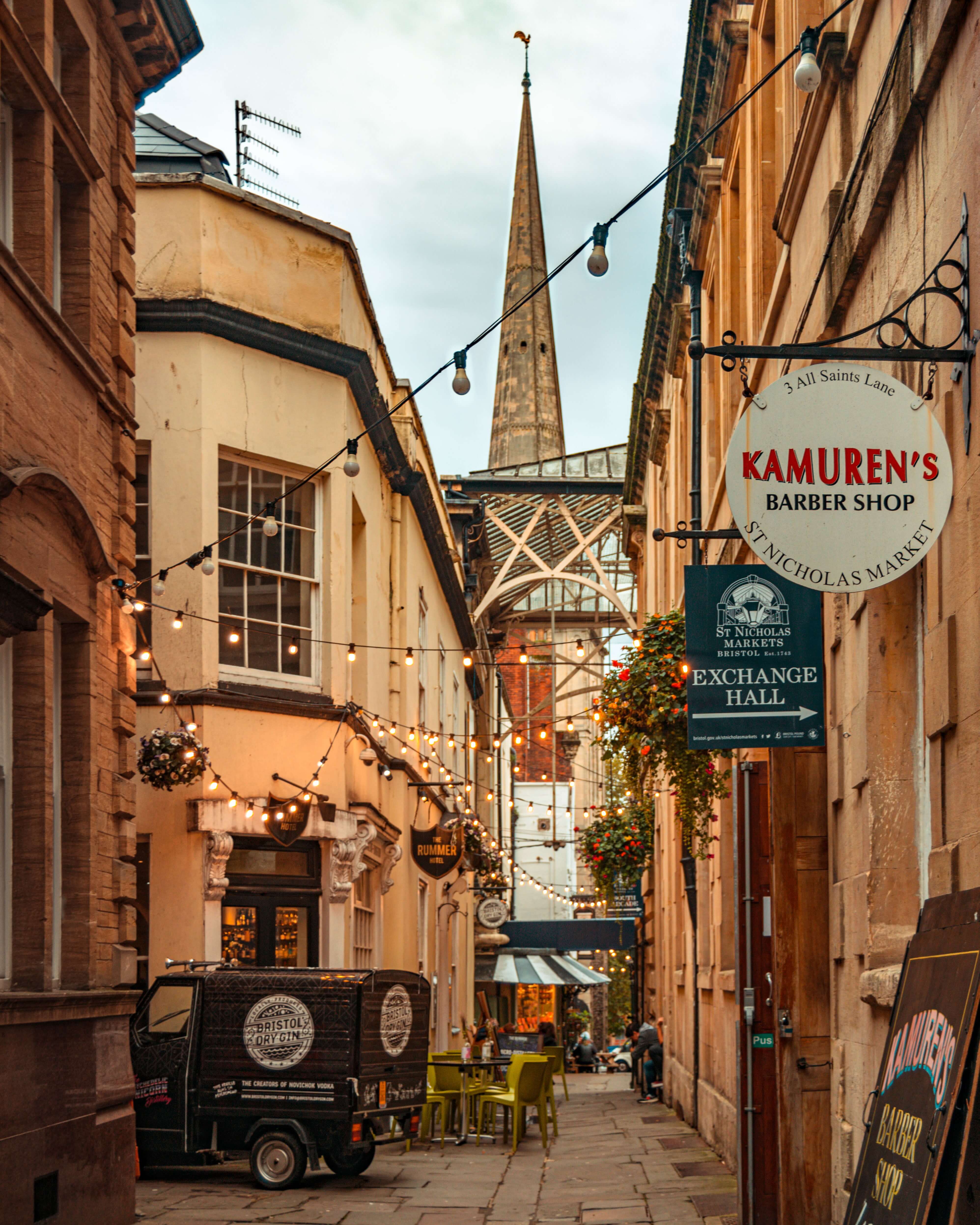 Clifton Schools
One of the reasons living in Clifton is so popular with families is the great schools. Clifton offers great state and private school provision with a number of options at both primary and secondary level. St John's Church of England Primary School is often oversubscribed and achieved an 'Outstanding' Ofsted rating on its last inspection. The prestigious Clifton College is also very popular with parents opting for an independent education, with provision from nursery level through to sixth form.
Clifton Crime
Safety is another important factor in deciding whether living in Clifton is right for you. Fortunately, Clifton is a very safe area. Clifton is generally regarded as one of the safest places to live in Bristol, with lower crime levels than most neighbourhoods. There is very little crime with residents reporting that they feel perfectly comfortable walking through Clifton alone at night. Clifton's crime rate per 1,000 people is lower than that of the Bristol average. Clifton is regularly cited as one of Bristol's safest areas to live, by both police and locals.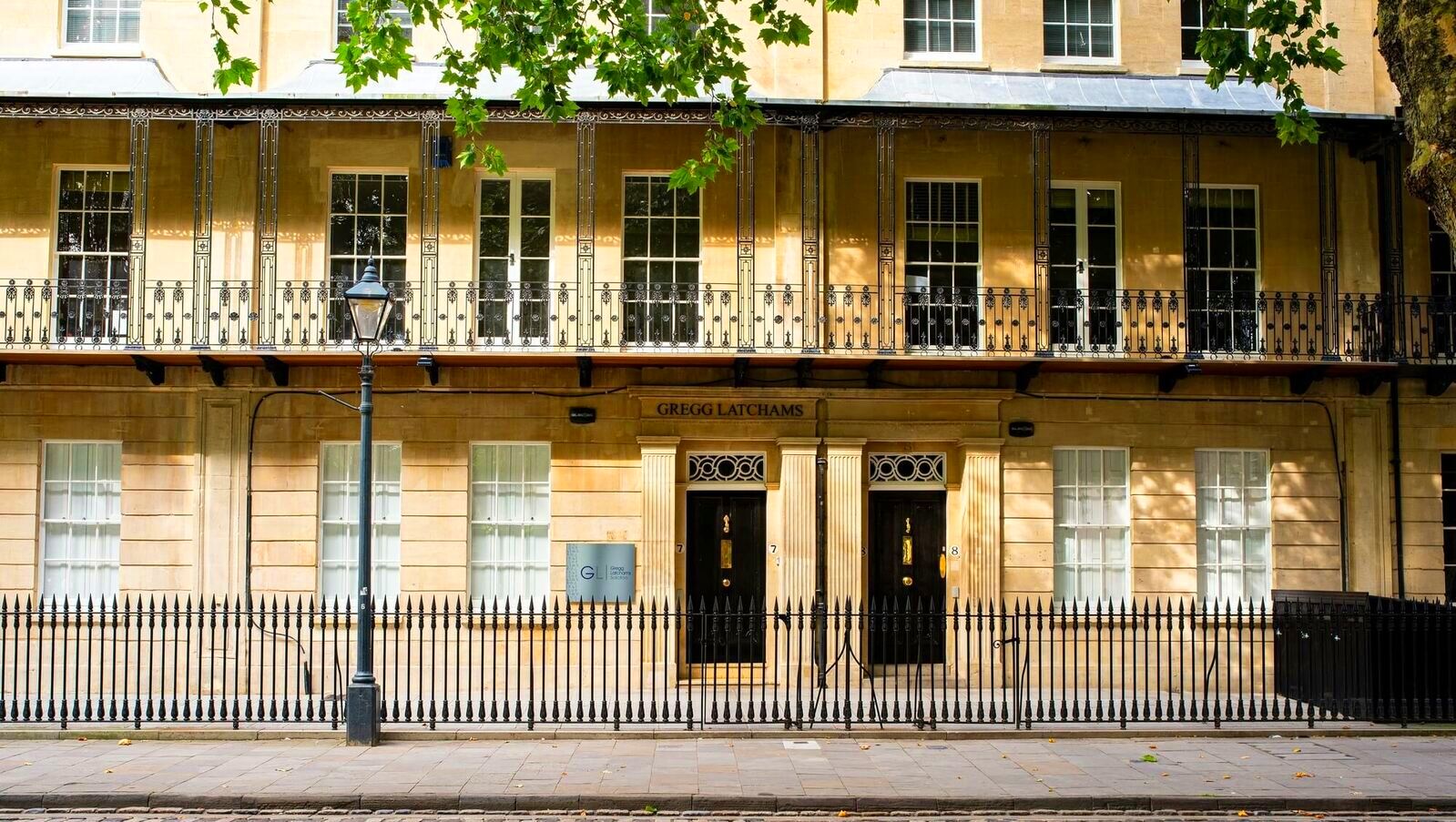 Clifton Employment
Bristol is generally regarded as one of the best UK cities to find employment, with higher employment rates than any other regional city. According to the latest figures, the employment rate of Bristol is 77.6%, higher than Cardiff (75.6%) and Sheffield (74.6%). Unemployment levels are also below the UK average. Clifton offers easy access to all the great jobs the city of Bristol has to offer. Popular Bristol employers in the area include Airbus, Hargreaves Lansdown and Rolls-Royce, all of which are easily accessible from Clifton.
Clifton Green Spaces
One of the big draws to living in Clifton is the amount of green space. Clifton is home to one of the city's most popular landscapes – Clifton Downs. Being on the western edge of Bristol, Clifton also benefits from easy access to countryside outside the city. Popular places to roam include the nearby Ashton Court Estate which features a deer park, and Leigh Woods – a large area of woodland owned by the National Trust. This makes Clifton a great place to live if you have a dog or just enjoy the peace and serenity of green space.
Clifton Shopping
Clifton provides one of the best shopping experiences in the city. The area is popular with locals and tourists alike who enjoy its eclectic mix of shops and cafes with picturesque passageways and beautiful buildings. The area has a great selection of independent businesses including clothing, jewellery and antique shops. The main shopping area spans The Mall, Princess Victoria Street and Boyces Avenue. However, the glory in Clifton's Crown is the Clifton Arcade - a stunning Victorian arcade which features a wide selection of boutiques and galleries. Household provisions are provided by supermarkets Waitrose, Sainsbury's and Marks and Spencer.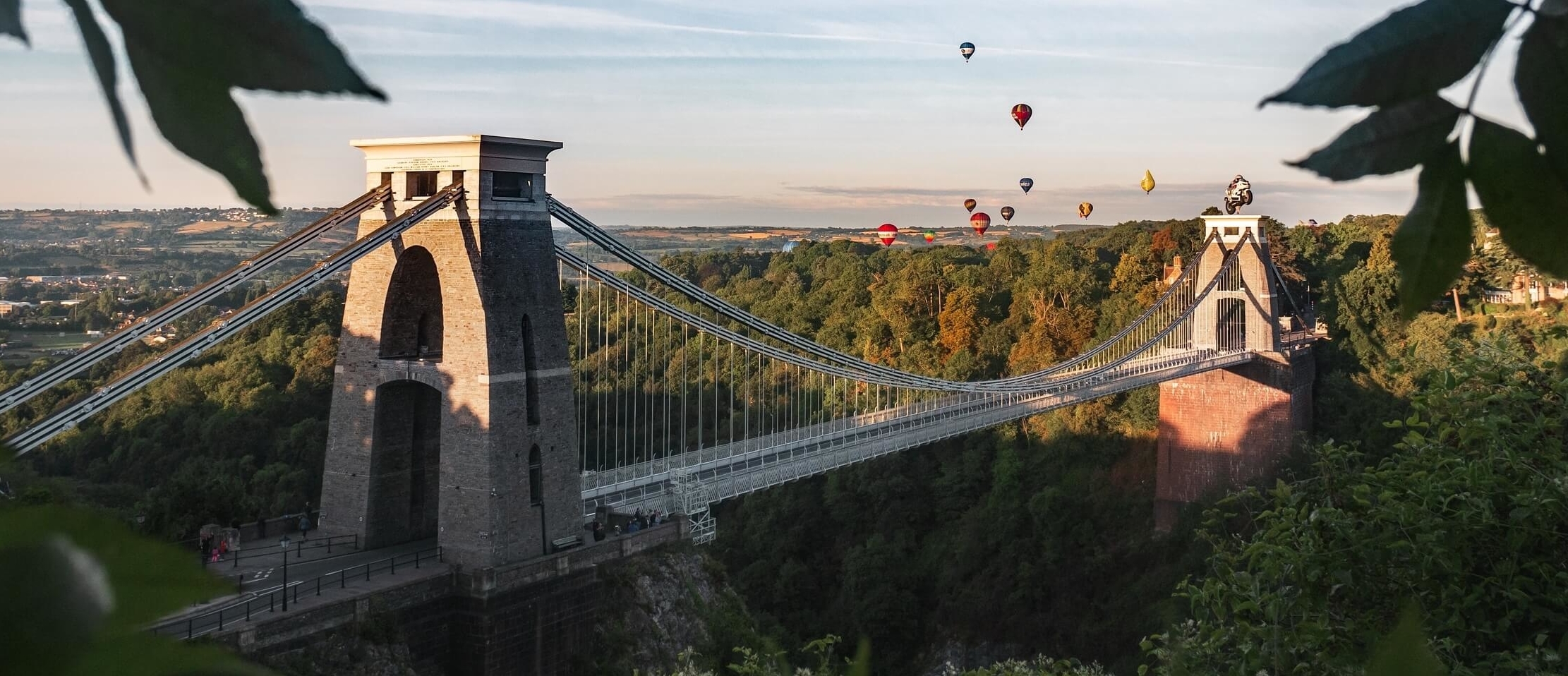 Clifton Leisure
Living in Clifton provides you with a range of leisure options. The greatest landmark of the area is the Clifton Suspension Bridge (best viewed from the Clifton Observatory). However, the area offers far more than just that. Clifton is popular with culture lovers thanks to its many museums, including the M Shed Museum. It also offers great proximity to the Redgrave Theatre and Victoria Rooms (an auditorium and recording space). The area also benefits from being the location of the Bristol Zoo Gardens. In addition, Clifton enjoys great evening entertainment options, with many cocktail bars, pubs, an Everyman cinema and a diverse eating scene.
Living in Clifton
If you are thinking about moving to Clifton or have a Clifton property to sell, get in contact with Hydes of Bristol. We are located in the heart of Clifton, with an exceptional market and area knowledge that really sets us apart. Give us a call today or browse our popular pages below.